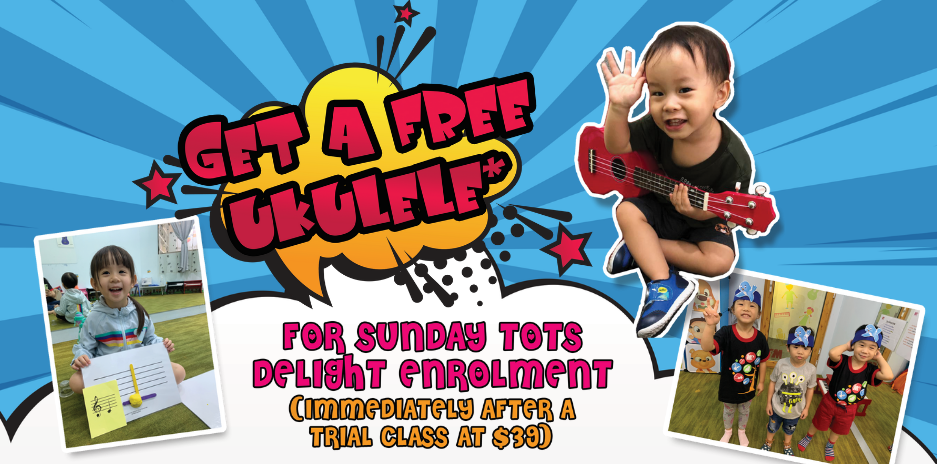 Babies today learn the alphabet, animal names and sounds, counting, colors, stories from the songs they hear and sing. We have observed that many babies begin singing around the same time they start using language, and first words are often part of familiar songs. There is a theme song at the beginning of every cartoon they watch, often you may hear your child humming to those theme songs when they are not watching the TV. Even books don't give the same kind of quality, one-on-one interaction as singing because words only convey meaning, whereas music conveys emotion. Music comforts your children, they help make the world a safe place for him/her.
Come and join our Tots Delight program & receive FREE* Ukulele upon sign up!
Our Tots Delight program is designed for age between 2.5 to 5 years old.
In this program, children will be introduced to music step by step. To ignite their love of music, we include singing and dancing. They will then get to explore the Resonator Bells, Keyboard, Ukulele, Violin and Tiny Piano.
As they progress further, they will start simple Note-reading and have mini performances!
Key highlights:
-

Develop better rhythm by f

ollowing the beats while singing and dancing
-

L

istening skills and communication
- Expression and emotions
- Showmanship
- Empower the kids to be creative
-

Basic note recognition (to help them when they continue with a main instrument)
*Terms & Conditions applies.
- While stock last.

Celeste