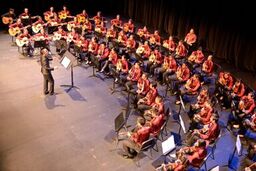 Music Delight has conducts CCAs for instruments like the Guitar, Ukulele and Keyboard several schools. Instructors have managed to coach students with little or no music experience to being able to proficiently perform in schools and at public events.
Previous in the CCAs have seen MD mentor students for performances such as the Singapore Youth Festival (SYF) celebrations, as well as internationally recognized examinations such as the Trinity College of Music Ensemble Examinations or the London College of Music Ensemble Examinations, attaining both Certificates of Merit, Accomplishment and multiple Distinctions.
Our programmes and lesson plans are flexible and customizable to the school's demands in developing each individual student effectively.
All our Instructors are registered through the Ministry of Education's (MOE) Instructor Registration scheme and the Arts & Music Instructors in School (AMIS) Scheme.
We constantly upgrade our teaching syllabuses, lesson plans and pedagogical approach to provide the best education for our students.
Email us at info@musicdelight.com.sg to let us know your requirements and we will do our best to be of service.